A Book Reivew- Summer Fiction
We just got back from vacation. It was an incredible week, probably our best so far. I'll share more about that and a lot of pictures later!
But for now, I wanted to write a little review of the books I read while we were at the beach.
Summer, for us, means reading. A lot. And it means reading fiction. We spend most of the year reading nonfiction and so we allow ourselves the summer to just relax and get lost in a good book.
Some things you should know about me- I never read a synopsis. Never. I don't read the jacket cover or the back cover of books. When I read other blogs with book recommendations, I read the first sentence or two of the review, but once they start in with story details, I'm out. I'm weird I guess. I feel like they give too much of the story away. And so I judge books simply based on their genre, a recommendation and, yes, I judge a book by its cover. So because of that, many times, I end up with books that are random for me and sometimes a miss. At one point, Jack pointed to one of the books I hadn't started and said, "What's that one about?" Yeah, I don't know. Ha! In light of that, these book reviews will be light on the plot summary.
Another thing you should know- I really don't like a lot of language or sex in what I read. In fact, I'd prefer to read books that have none at all. However, just because there is some language doesn't automatically mean I won't read it or enjoy it. But it will affect my overall recommendation and feelings towards the book. It's a lot like rated R movies for me- they're not 100% off the table, but generally I don't watch them. It has to be a really great story for me to get behind a book with language in it.
Lastly, I don't have a genre that I love more than others. I love them all. Fantasy, realistic fiction, literary fiction, mysteries, classics, even sci-fi. As long as it is a compelling story, well written with strong characterization, I'm in. And though I love Jesus, I don't really enjoy Christian fiction. I've read it a ton and mostly the stories are too fluff for me and not super well written and lacking in intriguing characters.
Ok- without further ado- here are my book reviews of the books I read on vacation, plus a series I read this past Spring that I loved!
What Alice Forgot
by Liane Moriarty (Realistic Fiction)
I really enjoyed this book. The story is immediately compelling- Alice takes a fall and when she comes to, she thinks it 1998 even though it's 2008. She has no memory of the previous decade and has to come to terms with how her life has changed so much in those 10 years. What I loved about it was it's honesty in dealing with real issues- miscarriage and infertility, marriage difficulties, family relationships, friendships- and the way so many things in Alice's life have no explanation at first ("That's just what happened"), but because Alice demands an answer the characters must get very honest about choices and consequences. What I did not like- there is some language in What Alice Forgot, as well as a few references to sex, although no outright sex scenes. Overall, I'd give What Alice Forgot my recommendation, 4 stars out of 5.
The Secret Keeper
by Kate Morton
I loved this book. Part of it is set in 1940, 1962 and 2011. In 1962, 16 year old Laurel Nichols witnesses her mother commit a crime and never tells a soul. Now it's 2011 and Laurel is coming home to say goodbye to her dying mother. This leads Laurel on a search to understand why her mother did what she did and what's the story inside the story (which takes place in 1941). Wonderful book that kept me intrigued and entertained the entire time. Well written with complex characters, though a bit long, it was my favorite of the week. 5 stars.
The Sea of Tranquility
by Katja Millay (YA realistic fiction)
This book was my least favorite of the bunch. Although the storyline and the characters are compelling and drew me in, there is a lot of language, more than in any other I read, and a sex scene. I was surprised because it is a YA title at the amount of language in it. I will say, however, if you don't mind the language and if you enjoyed The Fault In Our Stars, you might like The Sea of Tranquility. It tells the story of Nastya and Josh, two teenagers who cannot outlive their tragic lives. Overall, I can't give this book my recommendation, for the reasons stated above. 2 stars.
I Capture the Castle
by Dodie Smith (Historical fiction)
Written in 1948 and set in 1930's England, I loved I Capture the Castle. The narrator is 17 year old Cassandra Mortmain who lives with her family in a run down castle in rural England. She is funny, honest and charismatic. If you love Jane Austen and Downton Abbey, you'll love I Capture The Castle. 5 stars.
The Storied Life of A.J. Fikry
by Gabrielle Zevin (realistic fiction)
I enjoyed The Storied Life of A.J. Fikry. A.J. Fikry is a bookstore owner whose life is left empty after the loss of his wife. He tells his story through the lens of his favorite authors and short stories. I enjoyed the story of Mr. Fikry as well as the references to classic literature and bookstores (two of my favorite things!). There was also more language than I like in this book, as well as some references to sex (though no sex scene). I felt the language took away from the appeal of the book and the story, for me, but I still found myself drawn into The Storied Life of A.J. Fikry. Without the language, I'd give it 4 stars, but because I found the language so distasteful, I'm giving it 3 stars.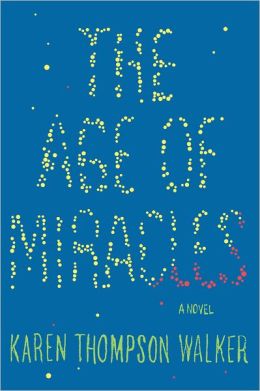 The Age of Miracles
by Karen Thompson Walker (YA, post apocalyptic, drama)
The Age of Miracles was very different from almost all YA post apocalyptic books I've read in that it was completely character driven. There was very little action and a whole lot of dialogue. The narrator is 11 year old Julia. We follow her story as the world is coming to a slow end. It is really the story of a middle schooler trying to come to terms with life, death, fitting in, boys, her parents and the fact that the world is ending. Overall, it was a good book. Not my favorite. There was some language, but not a lot. And I felt as if Julia should have been 13 or 14 instead of 11 (based on her relationship with a boy and her friends). Overall the writing is good and the characters strong, but for me it fell kind of flat. 3 stars.
A Conspiracy of Kings
by Megan Whalen Turner (Book 4 in the Queen's Thief Series)
I love the
Queen's Thief Series
by Megan Whalen Turner. The first book, The Thief, was a Newberry Honor book. Jack and I discovered this series last summer and only recently realized it wasn't a trilogy! Haha! That's why we didn't read book 4, A Conspiracy of Kings, until this summer. The Queen's Thief series tells the stories of 3 fictional kingdoms- Eddis, Attolia and Sounis- which are situated together on a peninsula with a culture and climate much like that of Greece. The time period is sometime in the past, but not ancient- no cars or electricity, they ride horses, but use guns. These are well-written, clean, Young Adult books with clever stories, plot twists and a bit of mythology and lore. 5 stars.
Station Eleven
by Emily St. John Mandel (literary post apocalyptic)
Station Eleven was the last of the books I read on vacation. Much like Age of Miracles, it's not your typical post apocalyptic novel. Much of the book is flashbacks and dialogue. There is not as much action as most post apocalyptic novels have. It's much more the story of the characters and how their lives intersected each other, than it is about the end of civilization (the book is set in the aftermath of a worldwide flu epidemic that kills 99% of the population). It was certainly a good story and well-written- it kept me up late in the night because I wanted to see how exactly all these stories would intersect. I enjoyed it for sure, but not as much as I thought I would. 3.5 stars.
The Lunar Chronicles
by Marissa Meyer
The Lunar Chronicles was not a series I read on vacation, but rather one I started when Jack traveled to Malaysia in March. It is fantasy, sci-fi, futuristic, post apocalyptic, fairy tales. Yes, you read that right. Book 1 in the series,
Cinder
, is a retelling of Cinderella in a post apocalyptic world, where people are not always what they seem, there is a population who lives on the moon, there are cyborgs (part human, part robot), royalty, bad guys, good guys, and everything that makes a great series. Book 2,
Scarlet
, is a play on Little Read Riding Hood.
Cress
(Book 3) is Rapunzel.
Fairest
(a prequel) tells the villain's story (obviously the wicked queen).
Winter
, Book 4, is scheduled for release in November and I can't wait. I think it will be a twist on Snow White. Seriously, these are great books- easy reads, clean, super entertaining stories, stay up until 2 am to finish them kind of books. The characters are complex, their backstories are intriguing and the twist on a fairy tale is my favorite. Highly recommend. 5 stars.
There you have it- my review of the fiction I've read thus far in 2015. Let me know if you read any of these books and if you want me to keep doing book reviews- my summer reading list is quite long! After all, it's only May 27!